Mr Gilbert, Southern River, WA "Hey Sophie thank you so much for being so kind and helping me out like that…I really appreciate it and am very grateful for such a kind gesture. Thank you once again." – Revocation of Mandatory Cancellation 2017
Paula and Gordon, Wattleup, WA "Thank you sooooooooooooooo! Much. If it had not been for you, Gordon would not have his citizenship. Once again a hearty thanks. We will highly recommend you and your team." – Citizenship granted 2017
Ishmael, Mosman Park, WA – "Now that the visa application case has come to a final close my children and I wish to thank you and Sophie Manera for making it a success. We shall be forever grateful." – Child visa granted 2017 (photo supplied)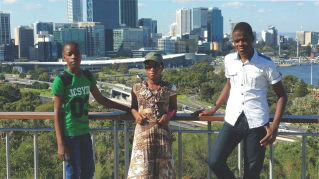 Victoria, 2019 – "I thought you might like to see that Ryan and I have finally become Australian citizens, this would not have been achievable if it had not been for your help." 
Koorosh Moradi, Perth, WA – "I am very happy to recommend Sophie Manera and Rothstein Lawyers. Sophie assisted me in obtaining Australian citizenship in a professional, competent and compassionate manner. She was extremely knowledgeable and handled all aspects of the application right up until approval. I would highly recommend Rothstein Lawyers for any complex immigration or citizenship matter." – Citizenship granted 2019
Kush, Rhodes, NSW – "I attended my citizenship ceremony yesterday where I received my certificate and am now an Australian citizen. My family and I would like to thank you for all your guidance and assistance and the visa and citizenship applications." – Citizenship granted 2017
 Anthea, Perth, WA "Thank you for your work and well wishes. I will certainly refer you to any potential clients I know." – Subclass 186 Employer Nomination Scheme visa granted 2016
Benny, Dawesville WA "Thanks very much for helping me and I will definitely refer your services to other South Africans" – Citizenship granted 2016
Cushla and Yusif, East Victoria Park, WA "Thank you so very much you and your colleagues from your firm have been so supportive and professional in the process of this visa. We will always be eternally grateful to you all. You will be in our prayers every day for good health and prosperity." – Subclass 309 partner visa granted 2016
Name withheld, Bennet Springs, WA – "You can't believe how happy we are and we just want to thank you for all your hard work & effort to make this possible. Thank you again & again…" – Citizenship granted 2016
Chris, Mt Pleasant, WA – "Thank you for your patience and first-class service. I will certainly recommend your service of meeting people who need assistance with their migration matters" – Partner visa granted 2016
Name withheld, Warnbro, WA "dear Mr Rothstein and staff. Words seem not enough to thank you for your efforts in regaining a visa for (name withheld). We are all still quite overwhelmed by the quick decision and it being in his favour. I hope you and your team never lose sight of the significant work that you do and the difference you make to people's lives. We truly thank you all god bless for the work you do." – Revocation of Mandatory Cancellation 2016
Dr Gopisetti, South Headland, WA – "Dear Sophie. Thank you very much for such a wonderful news. I am very happy to see your email and via grant notice. Margaryta is really excited. Now she can stay in Australia officially. Thanks once again for your wonderful help during the whole visa application process." Partner visa granted 2015
Name withheld, Queens Park, WA "words can never explain my deepest appreciation on my mater. Words can say so little when someone's done so much." – Subclass 820 Partner visa granted 2015
Viviane, Landsdale, WA – "Dear Sophie thank you for your email and for this great news. I would like to thank you so much or you time and effort. It was a pleasure dealing with you. I really appreciate what you did for us." Subclass 457 granted 2015
Cathy, Kelmscott, WA "Dear Sophie we would like to thank you & all the team at Rothstein's for all your help with us obtaining gout visa. Your knowledge & support was invaluable. Couldn't have done it without you." – Partner visa granted 2015
Ian, Mindarie, WA "I would also like to take the opportunity to thank Rothstein Lawyers for the professional advice I have received on my visa situation." – With reference to Subclass 186 Employer Nomination Scheme
Sam, Yeronga, QLD "thanks again for all the work you did for my PR. Really appreciate it." Subclass 186 ENS visa granted 2015
Kush NSW "I am extremely happy to have been granted the visa, and I would like to thank you for all your help in the application process. I am very happy to be a permanent resident of Australia as of today." – Permanent residency granted 2015
 Sean, South Brisbane, QLD "I just wanted to say a massive THANK YOU for all of your help and prompt responses throughout the application process. I couldn't be more grateful for your team and the efforts you guys put in" – Subclass 186 Employer Nomination Scheme visa granted 2015
Pasan & Dilini, Haynes, WA "We would like to thank Rothstein Lawyers for providing us with a first class service. Specially Sophie Manera was invaluable in helping us through the difficult and complicated process of getting my husband's visa. She not only simplified the process to us but given insight and understanding to prepare needed documents on time. She walked us through the process and made it easy. Our thanks goes to Mervyn Rothstein for his understanding and availing his service at critical junctures with his extensive law knowledge and experience. On top of all that, we value the empathy and support given during the whole strenuous process. We really felt that Rothstein Lawyers had our best interests at heart and we have already recommended your service to several people. We wish Rothstein lawyers success and prosperity in the future." – 801 Partner visa granted 2014
Muhammad, Balga, WA "I would like to say thank you very much from the bottom of my heart for the guidance you've been so great for the entire process and I really appreciate your effort and knowledge." – Subclass 866 protection visa granted 2014
Franz, Karrinyup, WA "thank you and your team for all your assistance in the process to get our permanent residency. It is much appreciated." – Subclass 187 Regional Sponsored Migration Scheme visa granted 2014
Mark, Duncraig, WA – "just a quick email to express how grateful I am to you and all the staff at Rothstein's. You have handled everything so well and kept me up to speed on everything throughout the process. As I will be pursuing PR in the future I will most definitely be using your services again, and will recommend you to anyone who requires your services. Thanks so much, you've helped carve the pathway to my future in Australia." –Subclass 457 Visa granted 2013
Marian, Sorrento, WA "Please tell Mr Rothstein and Sashi I thank them for their effort with me, they are great lawyers and I have been telling everybody about them." – Subclass 866 Protection visa granted 2012
Patrick, Currambine, WA "I would like to express my thanks for your help in applying for and securing an extension to my RRV." – Subclass 155 – Resident Return Visa approved. 2012
Koorosh Moradi, Perth, WA – "I am very happy to recommend Sophie Manera and Rothstein Lawyers. Sophie assisted me in obtaining Australian citizenship in a professional, competent and compassionate manner. She was extremely knowledgeable and handled all aspects of the application right up until approval. I would highly recommend Rothstein Lawyers for any complex immigration or citizenship matter." – Citizenship granted 2019
Want to know more? Talk to us.
Fax:
08 9228 0777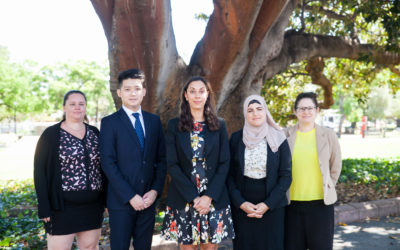 Mentoring has been so valuable to my career and I cannot speak highly enough of the mentoring programs available through the Law Society of Western Australia and the Migration Institute of Australia. I've loved having the opportunity to be a mentor, particularly to...
Talk to us today
We're here to help you with whatever you may need. We specialise in complex immigration, citizenship applications and appeals.